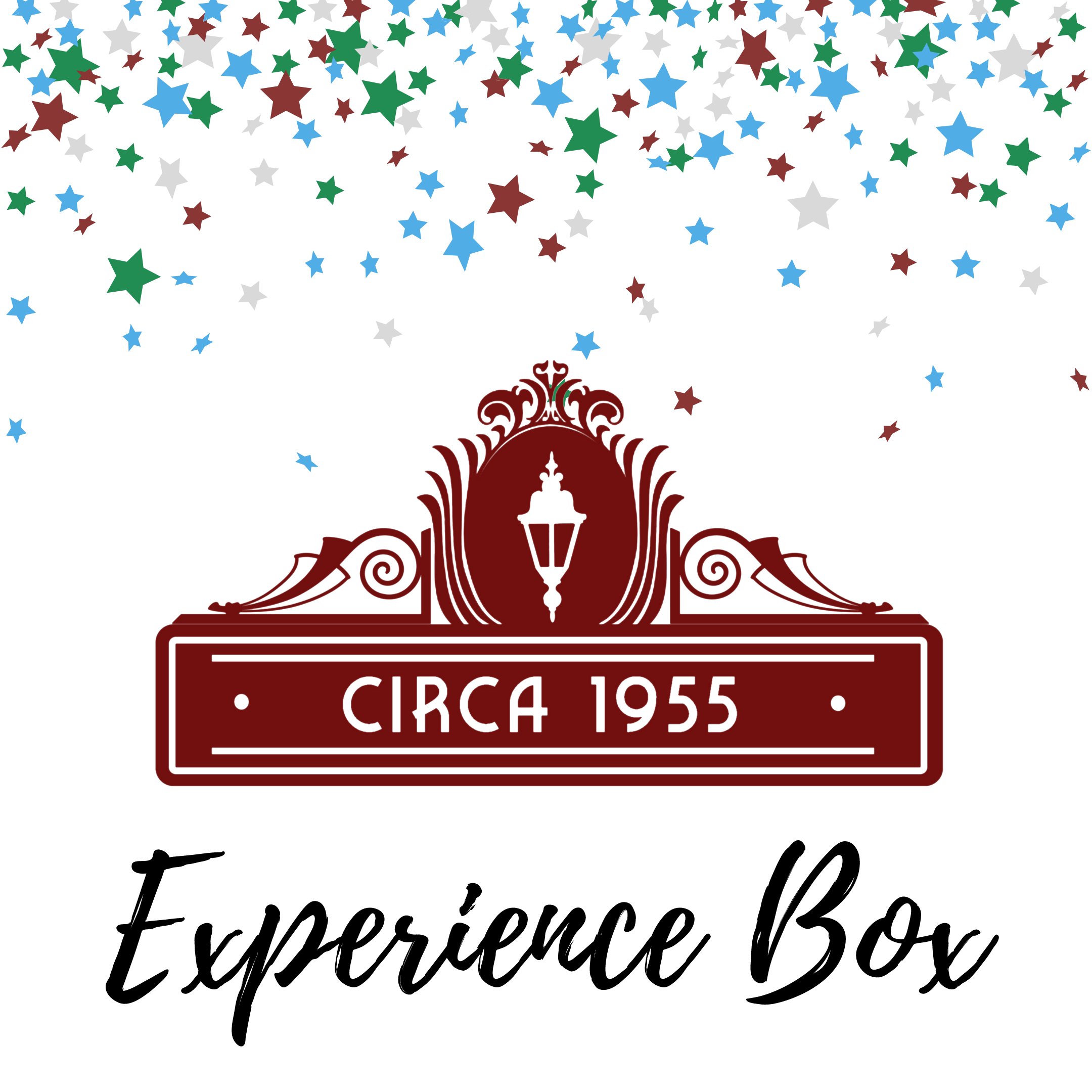 Circa 1955 Experience Box
PRE-ORDERS ARE CLOSED.  Only a handful are left; boxes will not be restocked if they go out of stock. The value of this year's Halloween box is over $70. BOXES ARE ANTICIPATED TO SHIP IN THE FIRST WEEK OF OCTOBER. 
This year's Halloween Box theme is the "Oogie Boogie Bash."  The event is filled with villainous surprises and appearances. Villains Grove is an experience to be seen, heard, and smelled - and we can't wait to share it with you!  We attended this event and our goal is to bring the bash to you!  In this box, you'll receive at least two candles inspired by the character meet and greets, Frightfully Fun Parade and more. 
NOTE: Despite the name of the event being "Oogie Boogie Bash," the elements of the event were not overwhelmingly Nightmare Before Christmas themed.  Instead, Oogie invited all of his favorite villain pals to celebrate with him.  As such, the experience will center on a celebration of villains and all things halloween!
Disclaimer: Circa 1955 is in no way authorized by, endorsed, or affiliated with The Walt Disney Company, Inc., or Walt Disney World. The Disney trademarks include but are not limited to Disneyland, The Magic Kingdom, Adventureland, EPCOT, Hollywood Studios, Animal Kingdom, Disneyland Paris, and Walt Disney. All references to such trademarked properties are used in accordance with the Fair Use Doctrine and are not meant to imply that this product is a Disney product for advertising or other commercial purposes. All fragrances are just inspired by the amazing memories we have created in the Parks and Resorts. The images on this website are my personal photographs. All art featuring the likenesses of Disney characters, figures, property, or logos are property of the Walt Disney Company, and its associated business units.
Our candles are hand-poured in small batches.  The wax we use is vegan, non-GMO soy wax from a renewable source right here in North America. We put no additives in our wax.  The wicks are metal-free cotton with a paper core.  Our fragrance oils are high-quality with no phthalates and many include bases made from essential oils.
When selecting candles, please consider the size of the room you will be burning the candle in.  For more information, please check out our blog post here.
Mini Tin: 3.5 ounces, 1.75" tall / 2.65" diameter, 12-15 hours burn time.
Large Tin: 6.75 ounces, 2" tall / 2.95" diameter, 35-40 hours burn time.
Single Wick Glass Tumbler: 10 ounces, 4.125" tall / 3.125" diameter, 55-60 hours burn time
Triple Wick Glass Tumbler: 16 ounces, 3.6" tall / 4" diameter, 80-85 hours burn time
If you or your recipient reside in an apartment, dorm or other community housing, we kindly recommend ensuring the office receives parcels and has secure pickup arrangements before placing your order.
From late spring to early fall (depending on your climate), we recommend having the boxes delivered to a location where they are less likely to be left outside in high temperatures or direct sunlight for prolonged periods of time.
In the summer months, we only ship on Monday and Tuesday.  This keeps the parcel in transit and helps to avoid long weekends stuck in hot shipping vehicles.
In the winter months, please allow the glass candles to come to room temperature before lighting.
The first few times you light your candle is very important.  Please plan on lighting it at a time when it can burn for a minimum of 4 hours.  Allow the wax to melt as close to the edge of the vessel as possible before extinguishing.  If you extinguish the candle prior to this, it will have trouble melting that excess wax during future burns. This is called "tunneling" and results in poor burning.

Trim your wick to 1/4 of an inch before each lighting.  Make sure the candle has not been lit for at least 3 hours before re-lighting.  Try to keep wick trimmings and debris out of the wax melt pool.  Keep the lid on the candle when not in use.  Please avoid placing the lid on the candle when it is lit; instead, blow out the candle then place the lid on top.
Always keep the candle on a firm and even, heat-resistant surface.  Keep it away from drafts, pets and children.